As we prepare for reopening in a world that has pushed us to be more digital, there are a few cleanup items for local businesses that are small steps with big rewards. SEO (Search Engine Optimization) has its own set of rules and best practices for getting more customers and raising your visibility to be found more. The following are all items that will help with that ranking.
Although the video below is geared toward the Morganton and Burke County business community, these tips apply to any Local Business (Local Business: Any business with a local or regional customer base).
Special Offer: We are currently offering a special to create a Quick Start Website. Contact us to learn more!
Tip #1: Claim your Google MyBusiness Listing
If you do not know, this is the little card that appears on the right-hand side when you Google your business name. It has a picture, phone number, website, hours, address, etc (see below).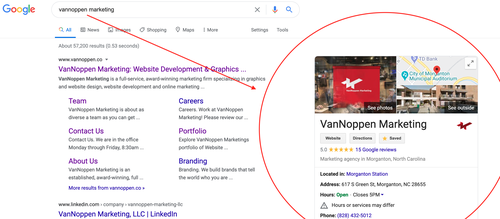 If you haven't claimed that yet - which you will know by looking for the text "Own this business?" - then you should click that link and verify by phone, email, or whatever means provided by Google.
Make sure the listing is claimed and up to date. Phone, hours, etc are all accurate. Since Google is the most commonly used platform, it is important to make sure the information found there is accurate, and a good idea to use the services they provide to the word if possible.
Google also provides an easy way to add temporary updated, COVID-19 hours.
Pro Tip: Ask for reviews from happy customers. Getting legitimate reviews is an important step in improving your SEO.
Tip #2: Share on Social Media
If you don't have a Facebook page, create it! Morganton/Burke County is a Facebook-centric community. Think creatively about what to share. Could you offer an online class? For example, restaurants may be closed but they can offer a cooking class, or video + recipe with ingredients commonly found in pantries.
It does not always have to be a pay-to-play situation. There is a payoff in keeping lines of communication open with customers and the community. No one wants our local businesses to shut down because of COVID-19, and you want customers/community to remember you as things start to trickle back to normal.
Overall, make sure you're staying in touch, posting updates through Phases, etc.
Tip #3: Make Videos for Social Media
Like this one!
We know it is a challenge and sometimes awkward exercise but worth it. Videos on social media tend to get algorithmic boosts from platforms. Facebook/Instagram like video content. Consumers like video content. It's easy for people to watch and engage with and helps keep the face with a business name connection.
Tip #4: Sell Gift Cards
Applies to almost every business. It's easy to set up. You can do it through Shopify, which has e-commerce components out of the box and ready to go. Gift cards do not require business owners to hassle with inventory or work into business processes. Shopify (and related platforms) help keep track of gift card amounts as they start to be used. Currently, there is a lot of push to support local businesses. If you don't have an easy way for people to support the business, you may not get much support, or at the very least miss out on a lot.
If you aren't ready to create a standalone option, try Facebook Shop. Facebook also offers an easy way for customers to buy gift cards and incorporate it into your business's Facebook page. Check out this Forbes article analyzing Facebook's move.
Whatever method you choose, make sure you have an easy way for people to support you.
Tip #5: Update your Website
Your website should be the central (or digital) watering hole for information found online about your business. It should have links to all your social media platforms. It should have all the ways to contact you, hours, address, etc. Once you are selling gift cards, it should also include a big link to where people can find out where to buy gift cards.
For Morganton: 50% Off a Website
Special Offer from VanNoppen Marketing: we are offering 50% off on a Quick Start Website to Morganton businesses that don't have a website and need one now. This is our home and we feel very strongly about supporting the greater Morganton community and that we have a set of services that can really help our business community.
Looking for More?
Check out a few more Digital Marketing Tips, and stay up to date with the special offerings from various online platforms. Google has announced gifts in GoogleAd money to small and medium-sized businesses, Facebook has published ways that you can request support or offer it during COVID-19.