MORGANTON, NC (Dec. 15, 2017) - Nancy VanNoppen recently joined VanNoppen Marketing as Managing Director and lead front-end web designer to oversee project flow and prioritization, and creative direction for web- and internet-related work.
VanNoppen received her MFA in 2017 from Maryland Institute College of Art (MICA) in Baltimore, MD and her BA (Summa Cum Laude) in 2012 from Hollins University in Roanoke, VA. She was awarded an artist residency at ArtSpace in Raleigh, NC, in the summer of 2012 where she worked until the spring of 2013.

She joined VanNoppen Marketing as a part-time designer in 2015 performing on-site and off-site creative work in conjunction with her graduate studies. She joined VanNoppen Marketing in her current role in September.
Her recent work for VanNoppen Marketing includes design of new custom websites for E.J. Victor Furniture (ejvictor.com), Marge Carson Furniture (margecarson.com) Mammoth Cave Jellystone Park (JellystoneMammothCave.com), Carolina Environmental Contracting (carolinaenvironmentalcontracting.com), Burke Primary Care (burkeprimarycare.com), Karst Beach waterpark (KasrtBeach.com) and VanNoppen Marketing's new corporate site (vannoppen.co).
As Managing Director, VanNoppen will be responsible for project flow and prioritization and visual creative direction for web- and internet-related work.
"Nancy's organizational and project management skills, commitment to superior design, and overall adaptive design abilities bring important leadership capabilities to our company," said company founder Allen VanNoppen. "During her tenure in 2015 and 2016 she demonstrated to our team and, more importantly, to our clients, creative and organizational leadership."
"Further, it sends a signal to our clients and our community that VanNoppen Marketing is building for the future and establishing a sound succession strategy," he said.
Nancy VanNoppen's independent art work has been shown at various venues in North Carolina including The Strand (Waynesville), The Tannery (Asheville), The Remedy Diner (Raleigh), Visual Art Exchange (Raleigh), and Artspace (Raleigh). In Roanoke, VA, her work has been exhibited at the Eleanor D. Wilson Museum, Liminal Alternative Artspace, and the Unicorn Stables Project gallery.
Nancy VanNoppen's art studio has been based in Asheville, NC since 2013 before recently relocating to Morganton. Her portfolio includes private commissioned work for clients in Naples, FL, Charlotte NC, Asheville NC and Morganton, where VanNoppen will continue her art practice in conjunction with her role as Managing Director of VanNoppen Marketing.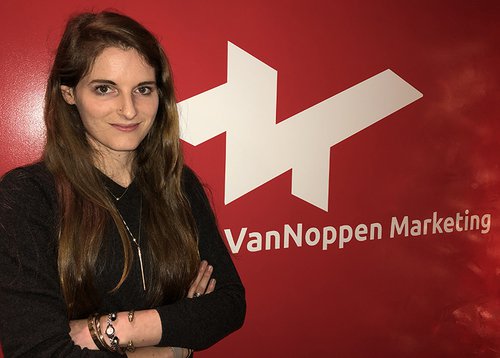 # # #
About VanNoppen Marketing – VanNoppen Marketing, LLC (VNM) was founded in Morganton NC in 2001 as a marketing partner and consultant to businesses seeking to elevate marketing-, brand awareness-, and public relations-related endeavors. In the course of 16 successful years VNM has evolved from a single operator into an established, award-winning, full-service strategic marketing practice offering a deep spectrum of services to businesses, manufacturers, entrepreneurs, governments and professionals across the United States. These services include, but are not limited to: Branding; Graphic Design and print layout; robust Internet-based Marketing (website design and development, social media management; eBlasts; news syndication); Public Relations; Media Relations; Advertising; Strategic Marketing Development; Community Integration, and more.